Read what the Smart Thermostat manufacturers think are main benefits of making your home smarter!


Drayton, the manufacturers of the Wiser range of Smart Devices, talk about the convenience element of smartening your home:
"Having a smart thermostat is particularly beneficial, as you can control your heating remotely from your smart phone or internet-connected tablet device. This is a way of managing your heating efficiently, ensuring you don't waste a penny overheating your home, with the added convenience of heating control from anywhere in the world.
In larger households, different family members have different heating needs and it can be tricky to cater for everyone using conventional systems; smart thermostats like Wiser make it simple to adjust the temperature in different rooms so everyone stays comfortable. Keep babies at a safe temperature and help elderly family members stay comfortable, without overheating the rest of the home."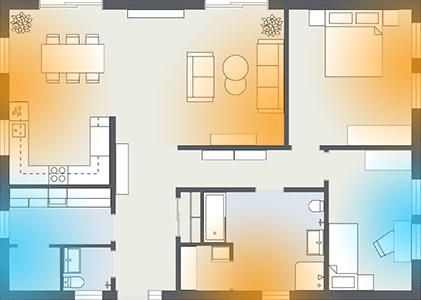 With many of us aiming to be more environmentally conscious, Resideo the manufacturers of the Honeywell Home range, talk about the future ecological and communal benefits of Smart Thermostats:
"During peak times, utility companies are not built to handle energy demands on their own. Demand response enabled thermostats talk to the grid and can help manage energy demands during peak hours to help maximize energy savings while easing pressure on the grid.
When temperatures plummet or the sun relentlessly blazes, your utility companies go into overdrive trying to keep everyone comfortable. A connected thermostat can help optimize temperature in the home at the right time based on weather, home characteristics and peak demand. Additionally, connecting a smart thermostat with a local utility savings program can help you save money without lifting a finger."


Much of the automated savings a smart thermostat makes are thanks to two features called Optimum Start & Optimum Stop and feature on nearly our entire product range. ESi explains what Optimum Start and Stop is are and why they are so beneficial to you:
"The Optimum Start adjusts the starting time for home heating according to the temperature measured within the building. Instead of setting an arbitrary time for the heating to come on, the homeowner programmes the time that the home should be at the desired temperature. Up to 10% of domestic energy costs can be saved, as the warm up time is automatically reduced according to the ambient temperature.
Many homeowners set their heating to start a couple of hours before getting up to avoid waking up to a cold house. With the Optimum Start function you don't need to do this. The actual start time is automatically delayed or advanced to ensure your home reaches the set temperature by the programmed time. Optimum Stop saves energy by switching the boiler off a little earlier than the programmed OFF time. If the house is up to temperature, you should not notice the effect on the temperature but you should see a difference in your energy bill."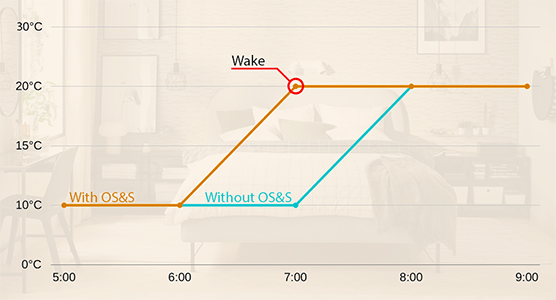 The Smart Thermostat Shop are big advocates of OpenTherm technology, but just what is OpenTherm? Here's Google's summary:
"OpenTherm is a language that compatible thermostats and heating systems can use to talk to each other, enabling thermostats to control heating and domestic hot water systems.
Newer boilers allow thermostats to tell them when to adjust their heating water temperature and how high to set it. The boiler will use more or less gas, as appropriate, to reach the water temperature set by the thermostat… Your heat may run for long periods of time but the water used for heating will be set to a lower temperature. This lets your heating system control your home's temperature more precisely. Longer heating times don't necessarily mean more energy is being used. In fact, this type of heating control can be more efficient overall."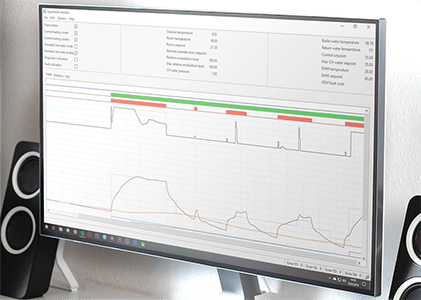 Lastly, but most crucially, the main benefit of a smart thermostat versus a traditional thermostat is the ability to control them via an app on your smartphone. Here is what EPH Control's Paul Mulcahy had to say following the launch of their latest app:
"If you have a holiday home or a rental property, you can control these while also controlling your own home… If you want to keep an eye on the temperature of your mother's house at the same time you can, while limiting the functionality of the app to particular users means only certain people will have permission to change the set heat schedules – For example, parents in the home could be admins, meaning they have all the privileges and rights when it comes to controlling the heating and hot water. The kids might be given permission to boost the heating but they can't change set schedules."
All these features and more will let you have the peace of mind that your home is being heated optimally and exactly to the specification you desire. Have to leave unexpectedly? You can be safe in the knowledge that your home is not being heated needlessly in your absence but can be reheated shortly before your return.